Imagine a life without worries about food,
the appearance of your body and your weight.
Imagine what this freedom would feel like.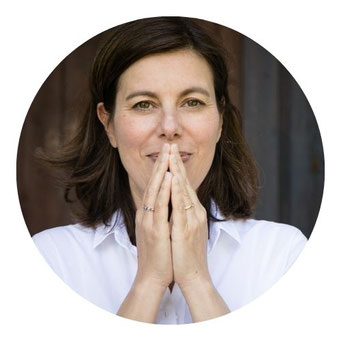 Hi, I am Julia. 
Intuitive eating Therapist, hobby chef, food lover and dog mom. 
As a certified practitioner of psychotherapy (HPP), Hypnotherapist and intuitive eating Coach, I help you to overcome emotional eating, and to finally make peace with food and your own body. I support you in finding a new way of living that fits your needs and circumstances by showing you how you can eat intuitively and with pleasure and how you  can - if you want to - lose weight without dieting and/or a vigorous exercise program.

"Why can I just not lose this stupid extra weight? I am hopeless, I don't have enough discipline, I am weak!"
"Why me?... This is so not fair. If I was skinnier, my life would be perfect!"
"I know everything there is about diets and what I should eat and what not, but somehow I just can't stick with it! There must be something wrong with me."
"I am too fat... I am ugly... I am  disgusting"
"Food tastes just so good, I simply love to eat. What can I say...I love food and food loves me."
If these thoughts are familiar to you, then you came to the right place.
The Gleichgewicht concept
The Gleichgewicht treatment is a modern and effective combination of nutritional coaching and psychological methods, that are proven to work with disordered eating.
Our weight is created in the kitchen, but the reasons for weight problems are manifold.
Together we will track it down.
In my treatment program I will show you how you can:
✓ Gain control over your eating habits and your diet
✓ While you Eat what you want and what you like
✓ Recognize emotional eating and the underlying emotions
✓ learn to react to these emotions differently than with food
✓ Achieve more self-confidence in yourself and your body
✓ Get a better body awareness
✓ honor and even improve your health
✓ Bring more ease and freedom into your eating habits and thus into your entire life
---
Many people struggle with their weight and need help. In my practice for nutrition and hypnotherapy in Berlin I can provide you with this support. I assist you on your path to finding joy in food again and healing your body and mind - without diets and without counting calories. 
Stop letting constant thoughts of being overweight or having to lose weight rule your life, and learn how to make peace with food again.
You'll develop a new healthy relationship with your body, so you can focus on more important things in life than weight loss and body shape.
In our coaching sessions I will help you break free of unwanted eating habits and regain control of your food choices.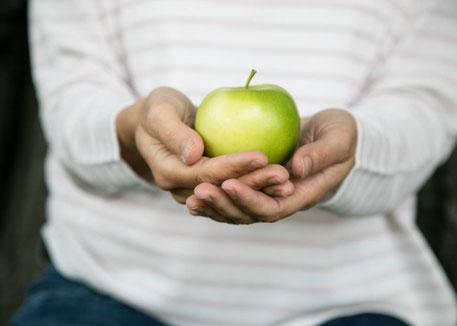 ---
We often put on weight because we eat to cope with our emotions and not because we are hungry. Constantly reaching for snacks out of worry, frustration, or stress makes it near to impossible to lose weight and stay that way.
The change from emotional to intuitive eating is a learning process that requires commitment and your active participation, but you don't have to face this challenge alone.
I am here to support you on your journey.
I know from personal experience what you are going through and can help you stay motivated!
 Through the combination of the principles of intuitive eating, ACT - the Acceptance and Commitment Therapy, PEP - a new and extended tapping technique and, if you work with me in my private practice in Berlin, with analytical hypnotherapy -
all of them scientifically proven methods for the treatment of emotional and disordered eating – changes are possible in only a short time.
These methods have also proven effective in preventing and treating eating disorders such as obesity, binge-eating and bulimia.
---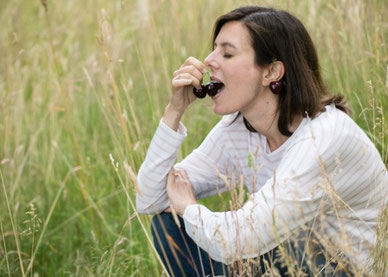 If you decide to reshape your life with me, you can say goodbye to food cravings and the dieting roller coaster.
95% of traditional restrictive diets fail because - among other aspects - no one really wants to eat and live that way for the rest of their life.
Therefore, what you eat should be enjoyable and satisfying. Otherwise, cravings, binge eating, and yo-yo dieting soon follow. You can only lose weight and stay that way if you change your eating habits over the long term. 
---
I'm there to help you to stop dieting and start living.
3 Months Together
We'll work together for 3 months. I've  tried and tested quite a bit with regard to treatment duration. In my experience this is the minimum time required to truly begin to create lasting change. The truth is that we have spend years in the forming our mindset and our eating habits and it is just not an overnight fix. 3 months will give us the time to go deeper and create lasting change.
Weekly Sessions
We'll talk weekly. We'll take a closer look at your eating habits, talk about your past and your current circumstances. We'll dive into your struggles and what's coming up for you in your own life. Each session, I'll guide you towards shifting out of old patterns and help you create new healthy habits that suit you and your well-being. You'll learn new skills to deal with difficult emotions that you can use at any time for any situation that might be coming up in your life. 
Teaching material 
Your own step-by-step guide. After each session you will get teaching material, so you can go over, what we covered that week plus some worksheets. This enables you to have a step-by-step guide to look back on when we finish our time together. 
I will give you different tasks and experiments for you to try out in between sessions. These tasks help you to put what you've learned into practice. This is how behaviors and patterns really start to change, if you try them out and integrating the ones that work for you into your daily life.
Personal E-Mail and Messenger (Telegram) support in between sessions 
In case you have questions or you struggle with something we've talked about in between sessions, I am there for you.
You write me an E-Mail or send me a message through the Messenger App Telegram and I will reply to you as soon as possible. So you are never alone, I am always at your side to support you.
Bonus: An exclusive 2 ½ hour self-confidence training session (Value €279 + VAT)
"Either you have good self-esteem or you don't."
A lot of people think that way. But in fact, self-esteem is like a muscle that we can train.
Low self-esteem is often a trigger and / or a consequence of disordered eating behavior. Of course, we also deal with it during the 3 months program. But this training is very special: in 2.5 hours we will specifically find out your very personal "self-esteem robbers" and replace them with strong "self-esteem givers". Sounds weird? You're absolutely right, but it actually works great :-). Try it!
Book your free information call with me today and find your inner balance and a healthy weight with the GLEICHGEWICHT treatment concept.
---
---
€595
per month for 3 months
---
✪ 12 x 60 minutes personal online coaching sessions via Zoom (Value: €1715)
✪ Worksheets & other teaching materials
✪ E-Mail and messenger support in between sessions
(value? Priceless I think... but if you like numbers, then I value it at €450)
✪ Bonus: a special 2,5-hour online self-confidence training session with me (Value €279)
In Berlin in my private practice
---
€679 
per month for 3 months
---
✪ 10 x 90 minutes Therapy / Coaching session incl. Hypnotherapy  (value: €1800)
✪ Worksheets & other teaching materials
✪ E-Mail and messenger support in between sessions (priceless... but if you like numbers, then it's valued at €450)
✪ Bonus: a special 2,5-hour online self-confidence training session with me (Value €279)
Not what you were looking for? Talk to me! And we'll try to come up with a treatment plan that suits your needs.
---
☞ The personal online coaching program includes VAT.
☞ According to § 4 No. 14 of the Sales Tax Act, as an alternative practitioner for psychotherapy, I am exempt from sales tax for therapeutic offers.
Other price models:
Individual single therapy session:
locally in Berlin (90 min): €200
online (60 min): €145
Session packages (only prepayment)
6 sessions: €1100
10 sessions: €1800
Do you want to get your coach and therapist a little better?
Then follow the link for my story.
No matter what eating or weight problem you are struggling with,
it is never too soon or too late to seek help:
The right time is now!
You deserve to live a healthy and happy life, and booking your free discovery call with me is your first step towards this goal.